About Your Visit
Insurance Information
We accept most major insurance plans and workers compensation. If you have specific questions regarding your insurance coverage prior to your appointment, please contact us and ask to speak with the practice administrator.
Appointments
Please call our office to make an appointment. Remember to bring to your appointment any x-rays, CT scans, MRIs, bone scans. For imaging studies, please bring the actual images, either hard-copy or on CD, as well as the reports. Also bring any blood test reports or slides from any prior surgery or biopsy. This will help ensure a timely work up and diagnosis. If you are unable to keep your appointment, please notify us as far in advance as possible so that we may use that time to schedule another patient in need of care. We make great efforts to adhere to our appointment schedules and appreciate your patience if we are late due to emergencies.
Fees & Payments
We make every effort to reduce the cost of your medical care. Therefore, we request payment arrangement for all office services at the time they are rendered, unless prior arrangements have been made. We accept cash, checks, MasterCard, Visa, Discover and American Express for your convenience. If we are a participating provider of your insurance company, we will bill them. However, payment is the patient's responsibility. We will help in any way we can to assist you in handling claims. If you have any billing questions, please contact us and ask to speak with the practice administrator.
Prescriptions & Medical Paperwork
Please request all prescriptions and authorizations during regular office hours, when full records are available. Requests for temporary handicap parking placards are processed during regular office hours. For additional paperwork, including FMLA, disability, and supplemental insurance forms, please allow 10 working days for this work to be completed. Our processing fee is $35 for these forms.
Travel Accommodations
There are multiple options for patients and their families who are visiting from out of town. Several hotels offer discounted rates for patients who are being treated at Forest Park Medical Center. Hyatt Place Dallas/Park Central offers discounted rates for patients of Dallas Sarcoma Associates. Please contact the Hyatt Place directly for details.
For Your Appointment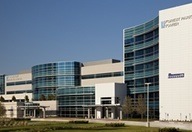 If you are a new patient, please arrive to your appointment early in order to complete the registration process. In addition, please bring the following:
Driver's License or State ID
Referral (If Required by Insurer)
Insurance Information
Copies of Operation Records, Medical Records, X-rays, MRIs, and CT Scans from Prior Doctor Visits (bring actual images or CDs as well as reports)
Any Blood Test Reports or Slides from any Prior Surgery or Biopsy
A List of Current Medications and Any Known Allergies